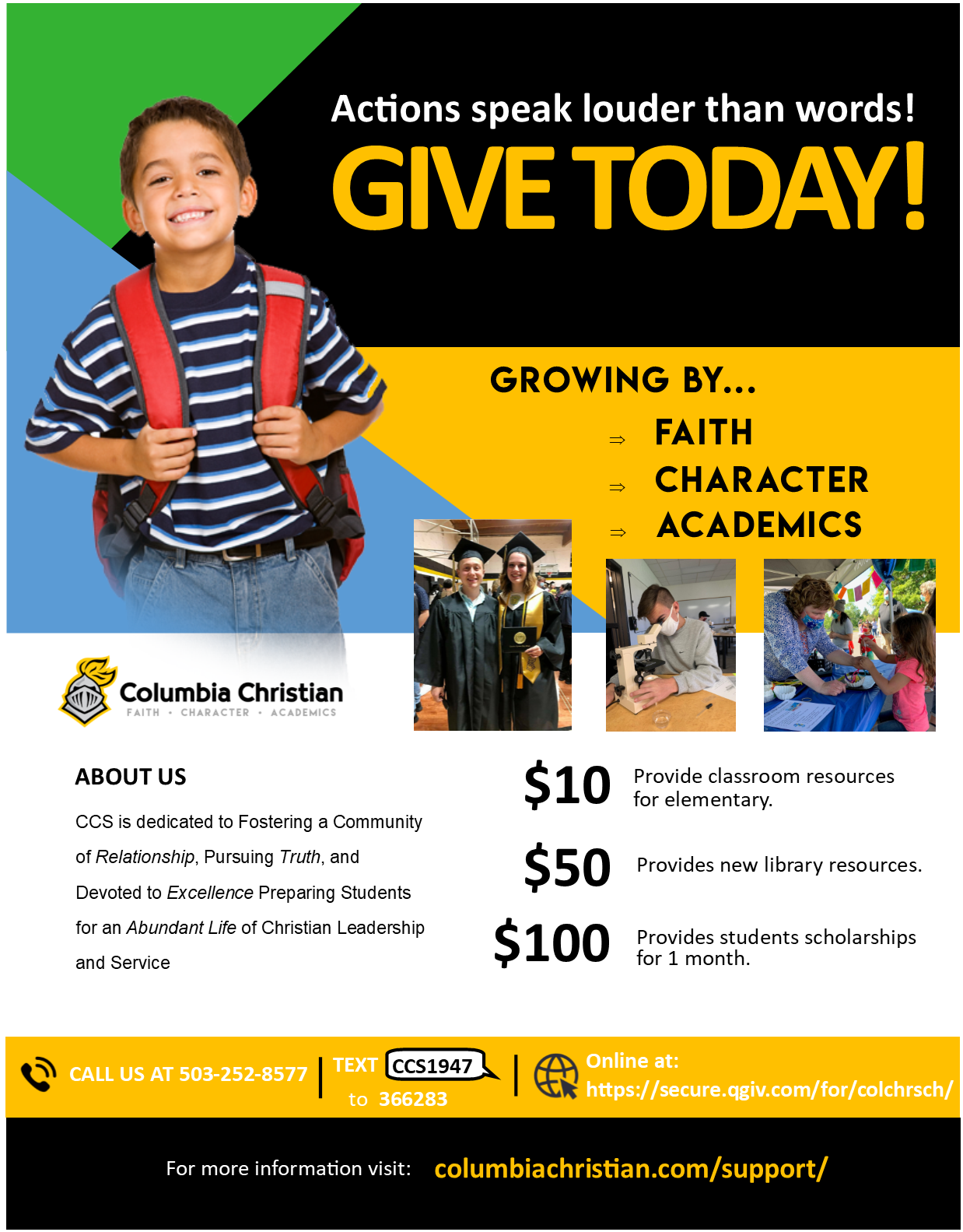 It is with a heart of gratitude that I thank you for your commitment to the work God is blessing at Columbia Christian. Though this year has brought challenges with the limitations of COVID, these challenges have prompted us to prayerfully, strategically, and creatively consider how we integrate who we are and what we do — with a greater dependence on God, trusting Him to work for our good.
God led the Israelites to a place where He would do the miraculous. What appeared to be 'wandering in confusion', a dead-end with no escape from Pharaoh and his army – was the exact place God intended them to be – a place where He would be glorified. And, the Israelites journeyed through the Red Sea on dry ground (vs. 22).
Our journey could not be possible without you! You are essential to the landscape of Columbia Christian, and I am grateful for your partnership. You are the inspiration to our Strength of a People, Power of Community campaign. You empower change and inspire growth at Columbia!
In this season of giving, I am inviting you into our campaign: Strength of a People, Power of Community. We've come a long way, but we have much more work to do! No matter the level of support, we ask you to consider making a gift. Please visit us at columbiachristian.com and click on the Donate button on the far right. A check is also a wonderful option; please mark the memo line "End of Year" campaign.
Thank you for joining this campaign. Thank you for your investment in the ministry at Columbia. Thank you for your gift that makes a difference in the lives of our students!
In His Service,

Ami Vensel, M.Ed.
President
"Columbia is a unique environment. The school has created an environment where students are protected and loved by their teachers, allowed to make mistakes and grow from them, and fostered a strong sense of community. Our kids have attended for the past 5 years and there are not enough words to describe how great the journey has been so far. We love the school, we love the teachers and staff, and couldn't imagine our kids being anywhere else."
​
Anne and Brian Deidrich
---

SaveSave